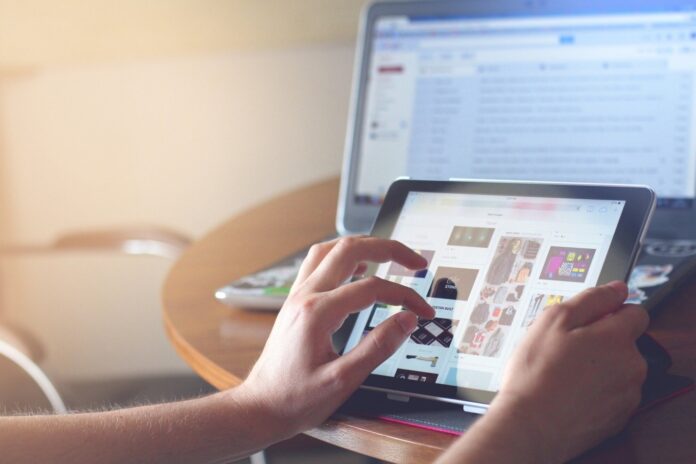 Are iPads popular? You only have to look at the numbers to answer that question. Apple has sold more than 425 million iPads since the original debuted in 2010.
However, there are other options that are just as portable and budget-friendly. So, when it comes to ​​iPads vs. laptops, what are the differences, and which is the winner?
Here's what to know so you can make a more informed decision.
What Is an iPad?
An iPad is a tablet device manufactured by Apple. You can use it like a laptop, except that it features a touchscreen and often a screen that is smaller than that of a laptop.
The iPad, regardless of the version that you have, runs on Apple's iOS operating system and has many features, including the ability to:
Browse the internet
Check email
Stream music
Watch videos
Play games
The iPad also has a built-in camera for taking photos and videos, as well as a front-facing camera for video calls. You can connect an iPad to the internet using Wi-Fi or a cellular data network. iPads are available in several different models, including the iPad mini and the iPad Pro.
What is a Laptop?
Laptops are computers that are portable and easy to carry around. They usually have a built-in keyboard and a screen that can be closed when not in use. Laptops run on batteries, so they can be used without being plugged into an outlet.
Some laptops are designed for specific purposes, such as gaming or graphic design, while others can be used for any type of computing such as studying or earning money as a blogger. 
iPads vs. Laptops: What Are the Differences?
When it comes to iPads vs. laptops, you're comparing two very popular types of devices. Namely, you'll note these main differences.
Size
One of the primary differences between an iPad and a laptop is size. iPads are much smaller and more portable than laptops, making them ideal for taking on the go. Laptops, on the other hand, are larger and heavier, making them better suited for use at a desk or table.
Design
Design is the most significant difference between an iPad and a laptop. iPads have a touchscreen interface and lack a physical keyboard, while laptops have a traditional interface with a physical keyboard.
This difference in design means that iPads are more portable than laptops and can be used in a variety of situations, while laptops are more suited for tasks that require a physical keyboard. This makes them easier to use for work-related tasks.
However, if you're going to use them for work, it's helpful to ensure you have an ergonomic laptop stand. This will make it easier to work and also ensure you're protecting your posture and wrists.
Performance
When it comes to computing power, there is no doubt that laptops are ahead of iPads.
Laptops usually have better processors, more memory and storage space, and more ports for connecting to external devices.
In addition, their larger size gives them an advantage when it comes to features such as keyboard quality and the ability to upgrade components.
Storage
Storage is one of the biggest differences between these two types of devices. Laptops typically have much more storage than iPads, making them better suited for tasks such as video editing or storing large files.
However, any iPad buying guide that's been updated to reflect the current market will likely note that iPads are catching up to laptops in this area.
Choosing the Right Device
Not sure what to choose when it comes to iPads vs. laptops? We hope this guide has been helpful.
When it comes down to it, iPads are the better option if you need a budget-friendly device that will allow you to perform basic tasks such as internet browsing, studying, and playing games.
However, laptops are the better option for those who need more power to program, write, and work. If you're interested in a laptop, check out our guide to the Best Business Laptops of 2022.