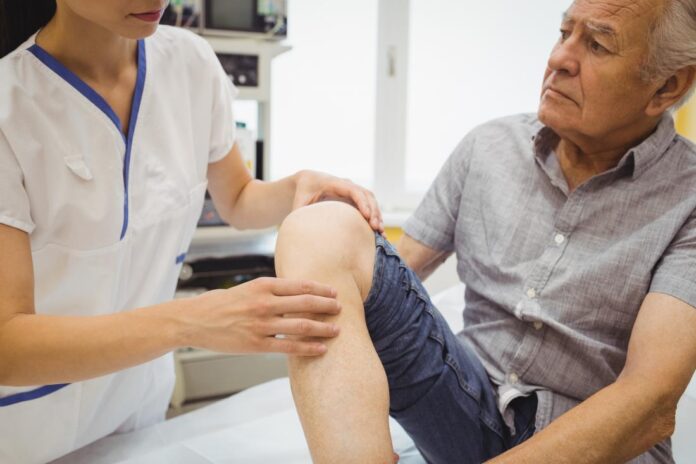 Why is knee replacement needed?
Knee replacement, which is also known as arthroplasty, is a complicated surgical procedure to replace the damaged knee joint with artificial knee joints of metal and plastic. You may need to undergo knee replacement surgery if you have:
Severe, chronic knee pain that refrains you from performing daily activities and disturbs your sleep.
Swollen and stiff knee joint that you can't even sit or stand properly.
A knee replacement lets you live an active life with little to no pain. It is recommended when all other treatments fail, such as physiotherapy, steroid injections, etc.
What are the different types of knee replacement surgery?
There are four main types of knee replacement surgery available. Depending on the patient's condition, they are:
Total knee replacement: It involves the replacement of the joint surface at the end of your thigh bone and the top of your shinbone. If required, it also includes replacing the under-surface of your knee cap.
Unicompartmental partial knee replacement: If osteoarthritis has affected parts of your knee, mostly the inner side, then partial knee replacement is conducted.
Kneecap replacement, also known as patellofemoral arthroplasty: Involves the replacement of the kneecap and its groove.
Revision or complex knee replacement: There are many reasons responsible for revised knee replacement. It is mainly second or third time replacement when the first time surgery fails due to severe arthritis, loosened implanted device, etc.
When is knee replacement recommended?
Although there are various health conditions responsible for the knee replacement; however, some of the major causes are:
Health conditions like knee osteoarthritis, rheumatoid arthritis, severe knee injury.
Severe pain even while resting.
Chronic knee inflammation that remains unaffected with physiotherapy, steroids, etc.
Knee deformity
Stiff knee that stops from doing usual activities like walking, sitting, standing, climbing stairs, etc.
What are the possible complications of knee replacement?
Like any other surgery, there are chances of developing risks in knee replacement as well and they are:
Wound infection
Stiffness
Bone fracture/dislocation
Infection of the joint replacement which may lead to another surgery
Formation of blood clots in the deep veins in the leg
Artery, ligament or nerve damage around the knee joint
Persistent pain in the knee
Apart from these, you may react to anaesthesia which is rare. However, these rare complications may develop according to your age and current health state that you need to discuss with your specialist.
What are the benefits of knee replacement?
As knee replacement is a surgical treatment, therefore, it has several benefits related to it and they are:
Increased mobility
Little to no pain
Back to usual lifestyle
It has been concluded that people who undergo knee replacement surgery are quite happy with the results and associated benefits.
How long does it take to recover from a knee replacement?
As knee replacement is major surgery, it takes up to six weeks to resume a healthy, usual life. It takes six months to a year to fully recover from a knee replacement and lead a healthy life.
What is the cost of knee replacement surgery in India?
Knee replacement surgery cost in India varies accordingly. It costs USD 4000 to USD 6000 for a single knee and USD 8400 to USD 12000 for both knees. The price also includes the type & material of implant used, type of surgery, surgeon's experience, and hospital fees followed by the rehabilitation process.
Final Thoughts:
Knee replacement is a successful surgical treatment that lets patients live an active life free from chronic knee pain.