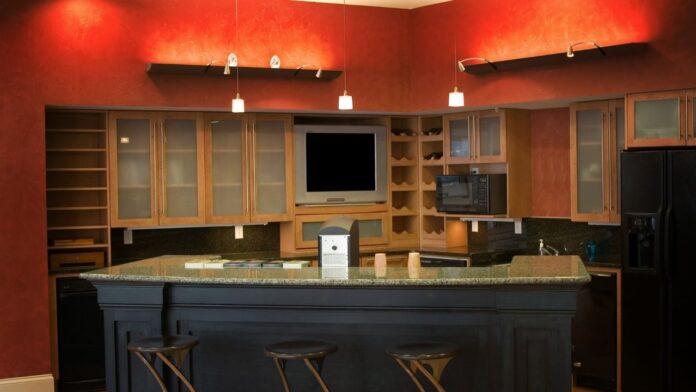 Every party at home needs alcohol. Why not make a bar to beautify the house and be functional during these occasions? One can create a minibar or an outdoor one for themselves with minimal elements to look classy and stylish. One can purchase items like a standing wine rack, creative lighting, elegant glasses, and of course, the perfect drinks to make the best bar. Since a bar is not very conventional within the house, many people are unaware of how to decorate it when they first begin.
Here are some ideas to get one going and begin their first bar creation smoothly.
Storage cabinets:
A bar required many storage cabinets. One can use glass cupboards at eye level, visible to the guests, or wooden ones to create a neat look. Ensure to store all the elements carefully to avoid breakage or cluttering: store glasses and plates in these cabinets to ensure they do not fall off easily. Many people like to keep extra stuff to replace if the primary products break.
Other products involved in a bar, like syrups, mixing jars, bottle openers, etc., look shabby and unorganised when kept outside. One can place them separately in different cabinets to avoid confusion and find them conveniently whenever required. Add a mini-fridge in a storage cabinet to not consume much space.
Wine racks:
Using wine racks is the most conventional practice in every bar. It looks tasteful and neatly arranges the alcohol. It is best to use standing wine racks to avoid slips and rolling over bottles. They also have a perfect shape that accommodates every bottle. These racks can show off expensive alcohol and neatly arrange them.
Many of these come in a tilted shape to highlight the wine's name. One can purchase racks for different alcohol bottles and keep them attached to the side of the bar. It is best to use these racks since storing them in a cabinet can shake the bottles and lead to breakage, causing unnecessary bubbles.
Glasses:
Not every glass can fit all the alcohol. All drinks are poured into respective glasses to taste them better and drink accordingly. Many sipping drinks have different glasses compared to shots. Alcohol like wine has long and round ones to mix the aroma better and taste gracefully, while vodka uses shot glasses to gulp immediately without touching the tongue. The beer uses a pint glass to drink casually.
People like collecting vintage glasses with patterns and carvings for a royal touch. They usually let wine rest in it before serving it to the guests. Cocktails and mocktails have better fun-shaped glasses since they are much lighter and are drunk casually than straight hard liquor. Purchase storing glasses to pour out of them to other smaller glasses on the table for a regal touch.
Furniture and lighting:
Using the best furniture is key to a bar. One cannot overcrowd it since it loses its sultry appeal. Use bar stools and high-raised tables to make it appropriate. Ensure finding the best bar stools since one must feel comfortable sitting on them at home. Guests might find it easier to sit on sofas, but barstools must be used anyway.
Peg tables and trays are necessary to serve and keep the glasses on conveniently. One must use a glass top since bar lighting reflects them beautifully. Use minimal lighting around the bar but add lights around the alcohol bottles for better highlighting. Shades of blue are the best colours to use if one needs unique lights in their bar.