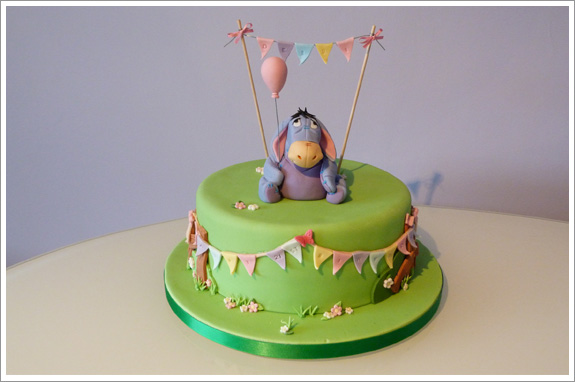 With the advent of Ecommerce and a large online store, you no longer have to worry about not being able to find your preferred cake design.
Unlike brick-and-mortar stores, online businesses have launched some unique cake designs that you will always want to incorporate in your celebrations, whether it is your birthday or another special occasion.
However, its more fun to bake a cartoon-themed cake for your kid. If your kid is a fan of Eeyore, you are surely going to love these two simple and easy cake recipes.
Read on to learn some amazing recipes for Eeyore cake Singapore.
How to Make a Full-Size Eeyore Shaped Cake?
This type of cake is a terrific place to start if you're new to crafting novelty cakes, and it turns out beautifully.
Ingredients
2×7 inch round cakes
Blue/purple, cream and black fondant
2 x 7 inch round cake pan
Buttercream icing (for crumb coating)
Filling
Black food coloring
Paint brush
Xacto knife
Pizza cutter or fondant cutter
Recipe
To begin, carve the two cakes into a Bell shape. Fill your cakes to your heart's content. You can do this by using only two ingredients: jam and buttercream. Sandwich the two halves together and crumb coat as usual.
Cover the cakes with the Blue/Purple Fondant that has been rolled out. Roll out the cream fondant, but after you've rolled it out, cut a curved edge to shape the nose section. You can use a knife/cutting tool or a Pizza cutter.
Then, before adding a little water below to bind it, lay the fondant on top of the face (dry at first) to ensure you obtain the perfect form. Gently rub and smooth over the entire area.
Take two little pieces of black fondant and roll two teardrop shapes with your fingertips to make the nostrils. Placing them on his nose is a good idea.
Cut two cream circles for his eyes and two black sausages (tiny) for his brows. Place them all in their proper places.
Roll and cut two black circles the same size as his eyes, but now cut a small piece from the top of them to place over the cream to form the eye color. To assist produce that drop-y Eeyore eye shape, add two small black rolls just above these.
Paint on "stitch" elements to his face with black food coloring and a paintbrush. Finally, add two little white Fondant pieces for the whites of the eyes and use an edible pen to draw on the stitches.
Roll out your blue/purple fondant and cut into two bell forms for the ears; Place them on the cake's side and let them fall naturally, then shape them as desired.
And tada! Its ready!
How to Make a Simple Three-Layered Eeyore Cake?
This Eeyore cake Singapore comprises three layers of vegan purple sponge cake with purple vanilla buttercream and fondant decorations, as well as a blueberry jam swirl. This cake is ideal for a children's birthday party or a baby shower!
Ingredients
Dairy-free milk
Apple cider vinegar
Self-raising flour
Golden caster sugar
Baking powder
Bicarbonate of soda
Coconut oil (melted)
purple food gel/coloring
Buttercream icing
Recipe
Preheat the oven to 180 degrees Celsius and grease three 6 inch cake pans. In a mixing basin, whisk together the dairy-free milk and apple cider vinegar until thoroughly blended.
Allow 10 minutes for the curd to curdle. As a result, a vegan 'buttermilk' is created.
Sift the flour, sugar, baking powder, and bicarbonate of soda into a large mixing bowl. To blend, whisk everything together thoroughly. Whisk together the melted coconut oil and the buttermilk.
Whisk together a drop of purple food gel with the wet mixture. Combine the wet and dry ingredients in a mixing bowl.
Pour the batter into the lined cake tins in equal amounts. Remove any air bubbles by tapping the tins on the surface.
Bake the cakes for around 28-30 minutes in the center of the preheated oven. When you insert a knife or skewer, it comes out clean and they are springy to the touch, you know they are baked.
Place the cakes on a wire rack to cool completely. Apply a thick layer of purple buttercream to the entire cake and smooth it out using a smooth or textured cake scraper or wide spatula.
Pipe two ears and the tail with a small amount of purple buttercream in a piping bag fitted with a round tip. For the bottom part of the face and the eyes, spread the white buttercream.
Fill a piping bag halfway with black buttercream and pipe Eeyores face, tail, and hair features. Then, fill a piping bag with pink buttercream and pipe on the ear and bow decorations.
Serve immediately or store in an airtight jar in the refrigerator; the buttercream will thicken up as it cools.
Order Customized Cakes Online Without Any Hassle
If you're planning a birthday celebration for your youngster, you should consider including Eeyore cake Singapore. Save yourself from the hassle and why not consider ordering a stunning by online cake shop Singapore for your child and his or her small companions.
Suggest Reads – F Is for Family